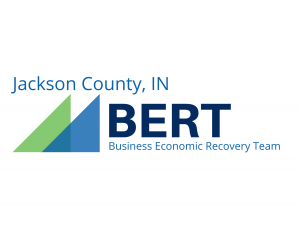 The Seymour Chamber of Commerce has launched the organization of a Jackson County Business Economic Recovery Team (BERT) to assist and support local businesses throughout the current COVID-19 crisis.  This crisis has created significant disruption to business supply chains, productivity and revenues that are expected to continue for an unknown period.
The BERT Leadership Group will be comprised of government, business and professional organization representatives from throughout Jackson County.  This group will serve as a single resource of information, support and resources for local businesses that have experienced negative impacts due to the crisis.
As the BERT Leadership Group is activated, they will be reaching out to local businesses with more information.
Small businesses need to know more about unemployment during this crisis. Click here to learn more about Indiana Unemployment Insurance.
Dan Robison, Seymour Chamber of Commerce
Matt Reedy, Jackson County Commissioner
Brian Thompson, Jackson County Council
Jon Myers, Southeast Indiana Small Business Development Center
Jim Plump, Jackson County Industrial Development Center
Arann Banks, Jackson County Visitor Center & Brownstown/Ewing Main Street
Matt Nicholson, City of Seymour Mayor
Becky Schepman, Seymour Main Street
Mickey King, Indiana WorkOne
Marvin Veatch, JCB
Kevin Johnson, Kocolene/Ranger
Karen Koester, The Office Center
Shawn Malone, Brooklyn Pizza / Seymour Brewing Company